Home
Plague Particulars
We are open!
Beginner and intermediate fencing classes are on Monday + Wednesdays or Tuesdays + Thursdays (we can accommodate mixed schedules too if needed).
Beginner and Intermediate classes are from 5:00pm to 6:00pm. Advanced class is from 6:00pm to 7:00pm. Open fencing is from 7:00pm to 8:00pm
We ask that fencers bring their own water and face masks (we provide fencing masks that can be borrowed).
Since we don't have the space to keep spectators at the required distance from each other, parents will be asked to wait outside.
The bathrooms are off limits unless there is an emergency.
Welcome!
Located in Yolo County, in the Central Valley of northern California, Davis is situated 11 miles west of Sacramento and 72 miles northeast of San Francisco.
The Davis Fencing Academy has been serving as the premier fencing club in Davis and surrounding communities since 1999.
We offer instruction and practice in all three modern fencing weapons: foil, saber, and epee. Our membership includes youth and adult fencers at all skill levels. We host multiple events throughout the year including: The Dick Berry Inivitational, fencing camps, and The Bay Cup. New for 2015 is our hosting of the Davis Pentathlon.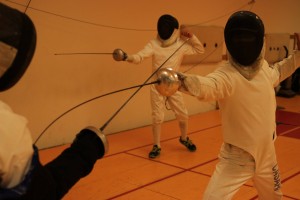 Our facility includes seven full length fencing strips with reels and two coaching strips. Electronic scoring is available on all fencing strips.
Davis Fencing Academy is a mixture of members with different backgrounds, interests and goals. In general, "Competitive Fencers" see fencing as a competitive outlet for their personal goals. In comparison, "Recreational Fencers" see fencing as a fun game to play while also getting great exercise. However both types of fencers have a lot in common because we are playing the same game under the same set of rules with the same short term goals such as scoring the next touch. Success may be measured through tournament results or level of an individual's game. A successful youth competitor can potentially earn a respectable rating in the USFA which may become a vehicle to a prestigious college scholarship. Davis Fencing Academy has had several of its members recruited by top level colleges because of their fencing abilities. With great discipline and hard work a fencer can travel on the world cup team and may even compete in the ultimate arena of sports, the Olympics.
Students, of similar skill, attend practice together. The organization of practices is crucial to the development of individual fencers. A club is only as strong as its fencers.
Coaches encourage and support a friendly welcoming atmosphere in the club. We believe this is key to the success of our students in both fencing and life.