Club & Staff
Davis Fencing Academy maintains a 4,000 square foot facility that includes seven full length (40 feet) strips, with reels and two coaching strips. Electronic scoring is available on all fencing strips. Also available is a small armorer station, wall target boards, and other practice tools, as well as an observation area with large screen TV for active tournament standings.
Club equipment of jackets, masks, gloves, and non-electric weapons are available for members during their lessons. A limited quantity of lames and electric weapons, with body cords, are also available for use during lessons.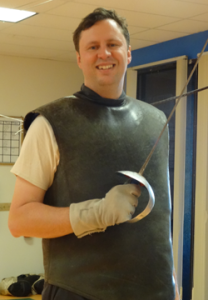 Simon Pitfield
Fencing Master, Owner
Simon started fencing in 1995, while attending UC Davis. In 1998 he was the co-founder of the City of Davis fencing program and opened the Davis Fencing Academy in 1999. In 2000 he received his Maitre d'Armes (Fencing Master) degree from the French Academy of Arms in Paris. Simon is presently the owner and head coach of the Davis Fencing Academy.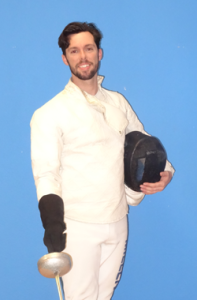 Kevin Miller
 Coach / Office Manager
Hometown: Hayward, CA
Kevin has been fencing since 2010. He does well with all three weapons, his favorite being epee. He is a USAF Veteran and graduated UC Davis. Kevin is very active with tournaments, always encouraging others to improve themselves and homself as well. He has a goal of achieving the Moniteur certification level of coaching through USFCA. The Moniteur is a professional level fencing certification that is designed primarily for those wishing to teach or coach fencing in club, community and school programs.
Dylan Heins
Coach
Ryan Servis
Coach
Dick Berry
Coach Emeritus
Hometown – Highland Park, MI
Dick has fenced since 1948 (starting at the age of 16) and is a five-time National Champion. At 75+ years of age, he finally retired from competition. He is still active at the club helping new and experienced fencers improve their skills and encouraging all to have fun.
Michigan State University Hall of Fame, Class of 2000
1952 All-American
1952 NCAA runner-up in individual epee
Two-time Big Ten Champion (1952 Epee/1953 Foil)
1959 Pan American Games
2-time US National Epee champion 1957  & 1958
USA Fencing Hall of Fame 2020